By 2030, incredible Earth changes will have occurred.

Climate crashing, biosphere dead-zones, human compression inside larger cities, economic tensions. More global conflict. Conversely a shift in human consciousness begins.
The emergence of the Spirit Warriors. Not combatants nor mercenaries but ones who have walked through the cold darkness and burning fire of the self. To stand as the shields. Not needing to bear arms yet armed with life experience. Scabbards empty and hands upraised.
You are the weapon wielded by a greater force than you alone. An instrument for a greater calling.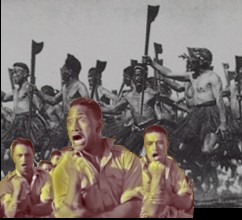 These Maori Warrior teachings draw from a compilation of video footage based on traditional Maori weaponry with modern adaptations.
The author was a former New Zealand Army Officer and Adviser to New Zealand Army Chief on integration of Maori traditional practices into New Zealand Army in 1994. Filmed in 2006 but finally released again in 2022, 10 years after 2012 years incubation. Now in his 50s, the author now comments as an older wiser man while observing his younger self explain and perform the movements. He also adds in newer footage, text and commentary to reflect the passing of time. For the younger and older viewer.
The Elder and Younger Self